Lt.Col. S. S. Khurana served the Army for 28 years before he took premature retirement in 1977. Mrs. Inderjit Khurana was at that time looking for a pre-school as a trained Pre-school teacher.
On his retirement he shifted to Bhubaneswar in June,1977 to work for a Construction Company. Once they have settled down with a building which served as their residence. In January of 1978 Mrs. Khurana thought of opening a pre-school in Bhubaneswar. The school started with two children in February 1998. This was the first Pre-school in Bhubaneswar. Mrs. Khurana who had employed 3-4 teachers always told them that they should wear clothes where they can jump and do way other activities along with the children. She believed in the work done rather than the dressing.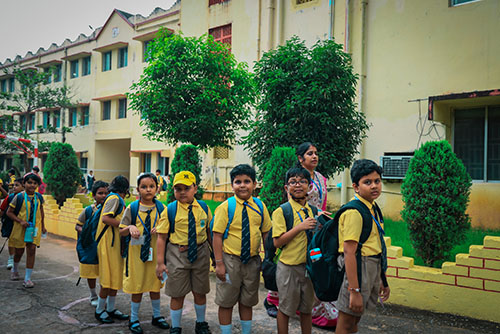 Soon the word spread and many people with two year old kids came and took admission. In the first three years the school had 100 children and the need and demand for class-I was created. The school slow by grew to class-VII and the school had taken many buildings in Forest Park Area.
In 1984 Mrs. Khurana was given a land of 1 acre on 99 years lease basis by the Government in favour of her work done in the field of education. It was not until 1996 that the building was made when the school got Provisional ICSE affiliation. In the year 1997 the school took admission into class 9 to take the ICSE exam. in March of 1999.
In 1995 to coincide with the school taking ICSE affiliation was the return of Mrs. Khurana's younger son Mr. Gurpreet Singh Khurana to India to join the school. He took over the administration of the school from Lt.Col.S.S. Khurana.
In the year 1996, Mr. Gurpreet Singh Khurana got married to Mrs. Leena Khurana which set the succession of the school to them in 2011. After the unfortunate death of late Mrs. Inderjit Khurana, Mrs. Leena Khurana took up the Vice Principal post. Later on she became the Principal and currently serving as the same.
The school had 23 batches of class 10 ICSE exam. In all the batches we have had 100% pass record.
We honor the student with a silver medal for the highest percentage in ICSE, Best English award in honour of Anvita Kolana, All rounder award, Best Science results in ICSE, and one award for the student who had an unexpected result.
The school believes in all round ho his he educations. We encourage students to take pat in literary, competitions, sports events, debate and art competitions. This year we have introduced a sports actively day on Second and Fourth Saturdays. We have introduced Dance, Yoga, Table Tennis, Badminton, Kho Kho for the students from class I to X.
We introdcued Educom classes in 2009 which was later changed to Tata Classedge. The purpose was to provide the children with a visual learning aid. The videos and 3D models provided worked as a good tool to teach the children.
Our Moto is " Freedom with Responsibility". We believe that the student should be free to talk to the teachers, their peer group, parents and also follow their passions and be able to work decisions of their lives. However, they should be responsible to themselves their parents for their actions.
Transportation
Specially designed buses with GPS tracking facility is provided by Ruchika School.
Table Tennis
With sports and games hour allotted every day, the students are encouraged to engage in table tennis.
Basket Ball
With sports and games hour allotted every day, the students are encouraged to engage in Basket Ball.
Badminton
With sports and games hour allotted every day, the students are encouraged to engage in Badminton.
Computer Lab
We have a well furnished Computer Lab for the students to facilitate practical learning
Fire Safety
We maintain measure equipment for fire safety. Student Safety is our first priority.
Chemistry Lab
Well-equipped Chemistry laboratory of international standards are on campus to facilitate practical learning.
Physics Lab
Well-equipped Phisics laboratory of international standards are on campus to facilitate practical learning.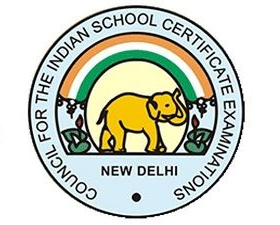 The school has got Permanent Affiliation to the Council for Indian School Certificate Examination (CISCE), New Delhi. It is recognized but not aided by the Education Department or the State Government of Orissa. The medium of instruction is English and both Hindi and Oriya are compulsory up to class VII. Students from class I onwards are prepared for the I.C.S.E. examination held by the Council.
Ruchika for the students is not just a school, rather it is a home away from home. In addition to academic engagement , Ruchika focuses on extra-curriculum activities, co-curricular activities that fuel the holistic growth of a child within house programmes that help them build essential skills for the future. Our school makes sure that students take part in creative activities, it fosters their intellectual development, which in turn gives them an edge. Ruchika is a school where along with learning, teachers help the students to inculcate in them leadership skills, embibe the power of reasoning , also propel their interest in ethics, results in social and personal development while teaching them responsibility and independence, to face the world.
A quote from Aristotle sums up all : "Educating the mind without educating the heart is no education at all."
So we in Ruchika believe that as much as it is important to arm and educate our minds, it is equally important to educate our hearts as well. Let us educate our children to realize the value and worth of it!
The main goal of Mathematics Education in our school is mathematisation of child's thinking. Here the students get an opportunity for mental exercise and their intellectual development. In our school we prepare the students to explore concept and develop problem solving skills. Though knowledge and understanding students develop reasoning to make deduction and solve problems.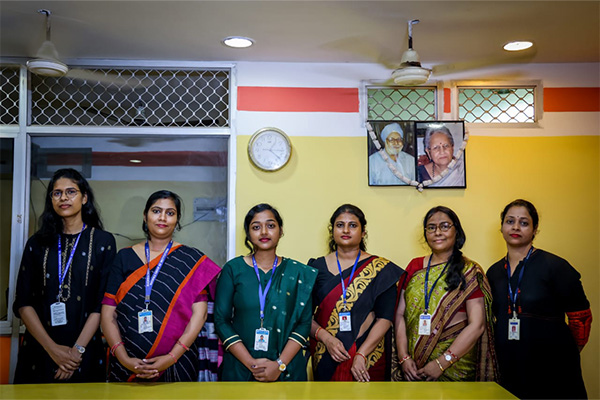 Highly qualified, well trained experienced science faculties of Ruchika :
Inculcate Scientific temperament among students.
Explain principles and concepts of Science by demonstration and experiments.
Relate with real life experience for easy understanding.
Regular group activities for innovative studies.
Open ended discussion for better clarification.
Encourage questioning and enhance critical thinking.